11 Classic Movies on Netflix
I love to watch Classic films. Ones from the 1930s and 1940s really make me smile. However, they are hard to find. Even the classic television station does not always have the movies on that I feel like watching. That is why I was so pleased when Netflix began offering classic films to download and stream to my computer or game console. Since that time I have watched a lot of great classic films. Some of them are old favorites, but some of them are ones I had never seen before. Here are some of the great classic films that I have watched on Netflix streaming:
The Charlie Chan series

– I love mysteries with a bit of humor and this series really does fit the bill. It follows the adventures of an Asian-American police detective from Hawaii, played by Sidney Toler, and his wayward sons and usually their African-American friend and all around helper Birmingham Brown (Mantan Moreland). They solve murders with humor and fortune cookie speech, which is a little stereotypical but adds a charming quality to the films. The Charlie Chan series on Netflix consists of six films:

Charlie Chan in the Secret Service

The Chinese Cat

Meeting at Midnight

The Jade Mask

The Scarlet Clue

The Shanghai Cobra
The Lady Eve

– Starring Barbara Stanwyck and Henry Fonda, this screwball comedy is all about the con artist. Jean is a con artist on a cruise ship with her father. They set their sights on a naive but wealthy heir to a fortune, Pike, but Jean accidently falls in love with him. When Pike finds out about her and her father, though, he dumps her. She follows him and pretends to be the rich and cultured Lady Eve. Deluded and still in love with her, Pike goes along with the farce. They end up together in the end, but the trip is a wild one.
Sabrina

– Starring Humphrey Bogart, Audrey Hepburn, and William Holden, this film is one of my all-time favorites. The story of a chauffeur's daughter who goes off to Paris to forget her unrequited love for the youngest son (Holden) of her father's employer. While there she grows up into a dazzling young woman and returns, drawing the attention of the engaged younger son. However his older brother (Bogart) wants the marriage to go through for business reasons so he gets his brother out of the picture for a while and woos Sabrina himself, counting on sending her away to 'meet' him in Paris. What he does not count on is falling in love with her. Will he throw millions away for the love of Sabrina? You will have to watch and find out!
I Was a Male War Bride

–Starring Cary Grant and Ann Sheridan, this is another screwball comedy. Grant, a French officer marries Sheridan, an officer in the United States Women's Army Corps. However, in order for him to come to America with her he has to have the proper paperwork. The only problem is that there is no paperwork for a man! Through many trials and tribulations Grant must explain over and over again why he is a 'war bride' and entitled to the same services as the women around him. Full of great scenes and even a cross-dressing scene that will make you fall over with laughter, Grant eventually makes it onboard the ship to America… in the brig. The funniest thing is that this movie is based on a true story!
Monkey Business

– Starring Cary Grant, Ginger Rogers, Charles Coburn, and Marilyn Monroe, this film is another comedy that is packed with laughs. The idea is that Grant is a scientist working on a youth elixir. When he leaves the room, however, his chimp mixes a formula of her own and pours it into the water cooler. After drinking the water, Grant, Rogers and even Coburn revert to a child-like state where they play pranks, make messes and just have a ball. Grant drinks more water and strips off his jacket to play outside while Rogers takes a nap. Somehow a baby shows up and when Rogers wakes in her normal state she fears that Grant has been turned into the baby! Hilarity ensues and eventually Grant shows back up, but no one can figure out which elixir it was that did the job.
McLintock!

–Want a little wild west mixed in with your comedy? Look no further than this great film. Starring John Wayne and Maureen O'Hara, this odd couple only gets together for one thing, their daughter. When she brings home a pansy from college to marry, Wayne will have none of it. O'Hara, of course, does not take this lying down. Between the two of them they get the whole town engaged in their battle, with O'Hara running through the streets from Wayne in her undergarments at the end. However everyone gets what is coming to them. Not a film for feminists in the least, it is still amusing in a head shaking, macho kind of way.
White Christmas

– One of my favorite Christmas movies, this one has a great cast including Bing Crosby, Danny Kaye, Vera-Ellen, and Rosemary Clooney. With a wonderful collection of songs and a sweet attitude, this film about romance and friendship will leave you feeling warm and fuzzy inside. When successful entertainers run across the failing lodge of their old army general and friend, they decide to (secretly) help him out. What follows is an elaborate song and dance routine with misunderstandings galore.
The Ghost and Mrs. Muir

– A romantic film with a happy/sad ending, this one stars Gene Tierney and Rex Harrison. Gene is a widow who moves into a haunted house with her maid and young daughter. The ghost of an old sea captain (Rex) appears to her and she convinces him to leave her daughter alone as she is "too young for ghosts." As her income disappears and she struggles to provide for her daughter, the captain tells her his memoirs so she can sell them. She successfully writes the book and falls in love with him along the way, but he tells her their love is doomed and to find a real man. He convinces her that he is just a dream and fades away, leaving her to find romance with another writer. However, she discovers that the man is already married. Brokenhearted, she returns to the house. The ending is something you will have to see for yourself.
Move Over, Darling

– Another romantic comedy, this one is a remake of My Favorite Wife but I think Doris Day and James Garner are the perfect couple for this film. The idea is that Day and Garner are in a plane crash. Day is missing and after five years of looking for her unsuccessfully, Garner decides to have her declared dead and remarry. However, the day he gets married, Day is found. They reunite before the honeymoon where Garner then discovers that Day had been living alone on an island with a handsome and athletic man. Of course trouble comes as Day, the fiancé, the other man and Garner try to untangle their relationships.
The Inspector General

– Starring Danny Kaye, this musical comedy is one that you will have to see to believe. The tale of an illiterate gypsy who is mistaken for the Inspector General and then avoids assassination multiples times by a corrupt governor and his friends, Kaye is hilarious in his song and dance routines and slapstick action. When the real inspector comes, the only virtuous one in the whole gang is Kaye. So, instead of being punished for imitating the inspector, Kaye gets the girl, gets rewarded, and the government officials are punished instead. The ultimate underdog win.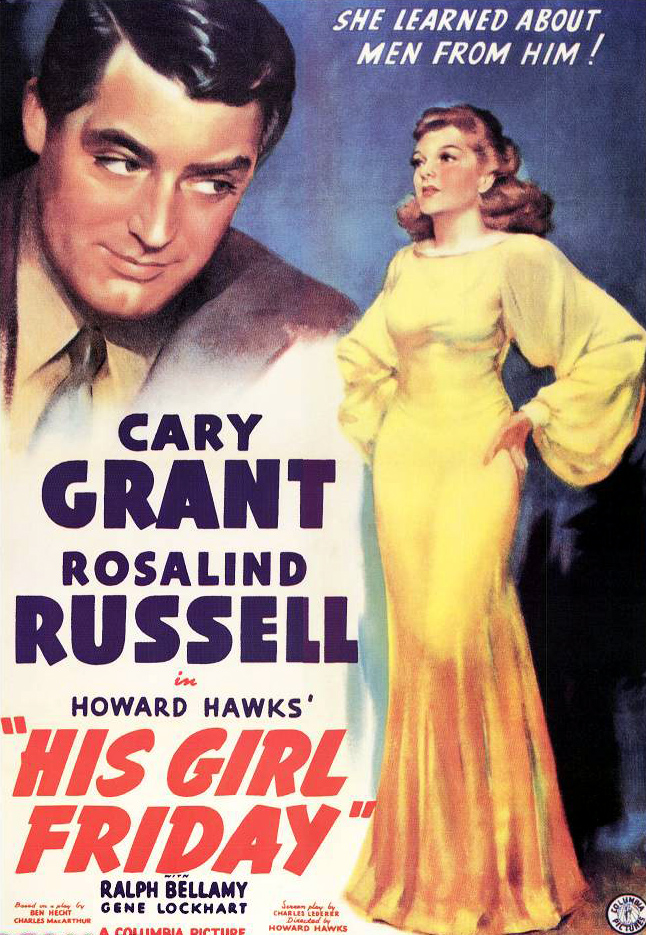 His Girl Friday

–Starring Cary Grant, Rosalind Russell, and Ralph Bellamy, this is another screwball comedy. The idea is that newspaper reporter Grant is still in love with his ex-wife Russell who is about to marry Bellamy and settle down in small town suburbia. However, Grant does not take this lying down. He coerces his ex into covering one last story with him. They get caught up with a mysteriously innocent murderer and try to prove his innocence before he is executed. Along the way Bellamy tries to convince Russell to leave with him as scheduled but eventually gives up in defeat. Full of humor, excitement, and the fastest talking you will ever hear, this film is a must see.
These are just a few of the films that Netflix offers. There are many more and other genres as well. Check out these classics for a laugh, romance, or mystery!
Paul and his wife Julie both spend quite a bit of time coming up with ideas, blogging, and researching all things related to childcare. They take care of all the necessary information related to www.babysittingjobs.com. He personally thinks his blog will help in finding information on all things related to a babysitter.