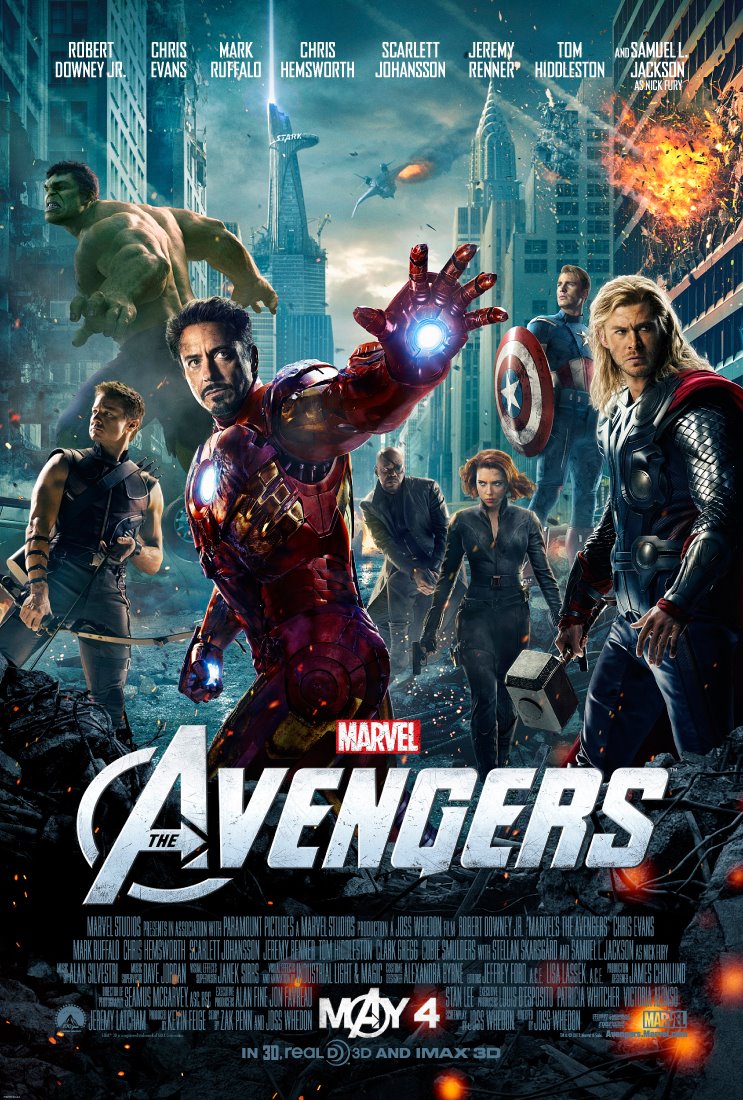 Written and directed by: Joss Whedon
Starring: Robert Downey Jr., Chris Evans, Scarlett Johannson, Mark Ruffalo, Chris Hemsworth, Jeremy Renner, and Tom Hiddleston
Released in theaters May 4, 2012
Rated PG-13 for intense sequences of sci-fi violence and action
The Avengers
picks up where previous Marvel films Thor, Iron Man 2, and Captain America leave off, with a new ensemble of superheroes banding together on planet Earth and an alien supervillain looking for fame, glory, and revenge.
Loki plans to use an alien mercenary army to conquer Earth, and it's up to the secret international force S.H.I.E.L.D. to assemble the new breed of superheroes to stop him. Unfortunately, they find the new band of misfits spends as much time fighting one another as they do the bad guys, which makes for a much more interesting tale.
This is one of the best movies I've seen so far this year.

Hands down, it would not have been the film it is without Robert Downey Jr. He plays a perfect Tony Stark. His sarcastic sense of humor and witty puns throw that little something extra in an already fantastic show. One of my favorite Starkisms:

(speaking to Hawkeye (Renner)) "Better clench up, Legolas."

Sigh…

It just makes me giggle. Dr. Banner (Mark Ruffalo) doesn't do too bad himself; plus, you know I kinda like those nerdy types
J
.
I am also still quite impressed with the Asgardians. Loki (Tom Hiddleston) is a pretty nasty character, but for some reason, he still has that redeemable bad boy feel about him. I guess we'll see what happens in the future. As for Thor (Chris Hemsworth)… well… he's just so darn pretty.
The special effects and cinematography were pretty awesome. We saw the regular old 2D version, but it was not lacking in any way. (I don't particularly care for 3D anyway.) Whedon did a fantastic job with directing (and writing) and the (super abundant) action scenes were nicely choreographed and filmed.
Something else I found impressive was that there were a couple honorable "God" mentions (Captain America to Black Widow, speaking about the "gods" Thor and Loki: "There's only one God, ma'am, and I'm pretty sure he doesn't dress like that.") and there was almost no bad language at all. This proves that there can be a great film without throwing in all that extra filth!
I took my oldest on a little mommy-son movie date, and before it was even over he said, "We're definitely going to have to buy this one!" Yes, son, I totally agree.